How to choose a sports bra?
2021-09-15 11:06:10
Match your own Cup
Your bust = upper bust-lower bust; measure your lower bust = your bottom circumference.
From my own experience, compared with ordinary underwear, I choose one size smaller for general sports underwear, and the cup remains the same. Sometimes it is also suitable to buy one size smaller for the bottom circumference and cup.
For example, if ordinary domestic underwear wears 34C, then sports underwear is 32C. I personally think that 32B is also okay. In addition to a little chest compression, it is within a tolerable range, but it varies from person to person. It is recommended to try before starting.
According to exercise intensity
Some girls do yoga and do exercises, and some skip rope and play ball. More and more people are running. Different intensities of exercise have different requirements for exercise bra. The sports bra factory china comfort and flexibility required for different impact levels and sports are also different.
Generally, exercise intensity is divided into three types according to the level of heart rate: low-intensity exercise, medium-intensity exercise, and high-intensity exercise. According to the exercise intensity to choose the corresponding supportive sports underwear, it is also divided into low, medium, and high-strength sports underwear. Generally, you can find the corresponding label on the package.
Low-intensity exercise General fitness, such as hiking, yoga, Pilates
The relatively small exercise intensity means that the fixation requirements for the Sports Bra are correspondingly smaller. Generally, simple fixed bras can be selected. The simple fixing bra is fixed by a layer of elastic mesh fabric, which is a pressure type fixing. It is advisable to choose a product with a high cotton content to avoid pressure on the chest.
Medium-intensity sports increase technical ability, such as: skiing, golf, dancing, rock climbing. Medium-intensity sports underwear mainly relies on elastic fabrics to form a certain pressure on the breasts to achieve a fixed effect. Compared with low-intensity sports underwear, the cutting requirements are more stringent. Fully consider factors such as breast shape, structure, and the force on the shoulders and backs.
High-intensity exercise increases cardiorespiratory capacity and plasticity, such as running, football, tennis, etc.
The chest shaking is the most intense during high-intensity exercise, and the support and fixation requirements for sports underwear are the highest. It requires both good fixation and no obvious discomfort and pressure on the chest.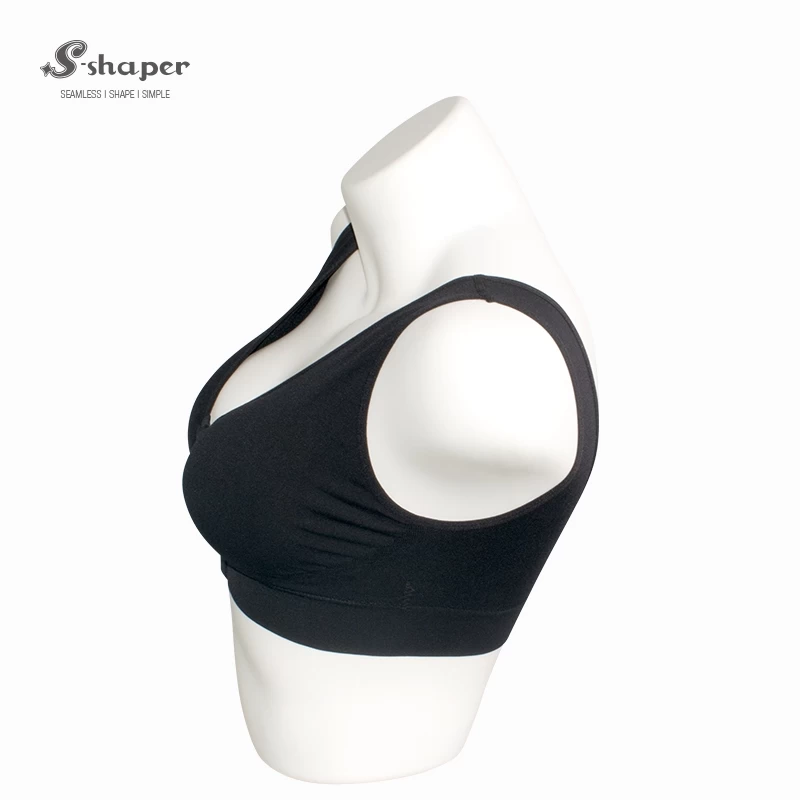 How to choose the style of sports underwear
Design points from the back
From the perspective of the back design, it can be roughly divided into two shoulder strap sports bra and I-shaped sports bra.
Double shoulder strap China Sports Bra  Manufacturer
This kind of sports underwear looks similar to ordinary underwear, with medium fixity, suitable for women with A to C cups for low- and medium-intensity exercise. Although it is wider than the bra straps and bust that I wear daily, and the steel ring is also removed, I personally feel that the comfort is still a bit worse.
Cross sport bra
The one-piece cross or Y-shaped design can prevent the shoulder straps from sliding, and the widened shoulder straps can withstand the impact of running, which will transfer the pressure from the sensitive shoulders and chest to the back and underarms.

This kind of sports underwear has good stability and is a boon to the busty female compatriots with medium and high exercise intensity. Personally recommend this style of underwear, but it may be inconvenient to put on and take off
Design points from the front
From the perspective of the front design, it can be divided into three types: simple one-piece bra, independent cup bra, and special structure bra.
Simple one-piece:china sports bra wholesales
One piece bra is the simplest type of sports bra, suitable for women with A-C cups for low- and medium-intensity exercise. For smaller breasts, you can buy the simplest one. For those with a slightly larger breast, you can choose a one-piece style with a separate cup inside.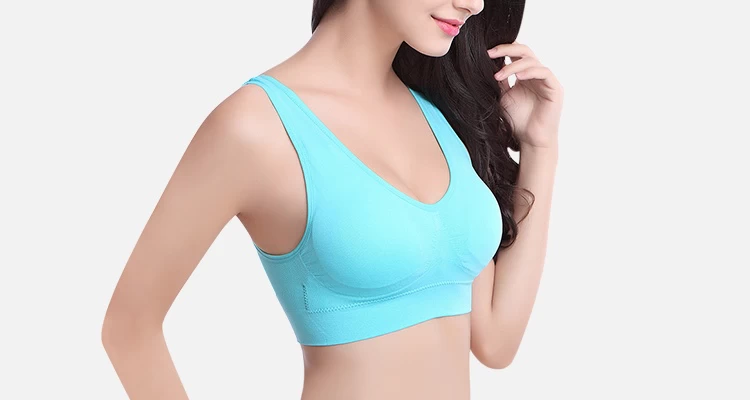 Independent cup type
The independent cup bra wraps and supports each of your breasts through a separate cup, which reduces shaking like a bra that is usually used. This type is more suitable for women with large cups.
Special structure bra
This type of bra combines the first two styles and has the strongest fixation. The main feature is a large row of hooks on the chest or behind the chest. Generally, there are special steel brackets for better support. The type is most suitable for women with C and D cups doing high-intensity exercise.
To sum up: the more intense the exercise, the larger the CUP, and the higher the support requirements for sports underwear!